Outdoor advertising is a market full of innovation, creativity, investment and growth. Advances in technology in Outdoor are allowing live changes to adverts, improved measurement tools, better engagement, increased view ability and targeting. All of which your clients are looking for.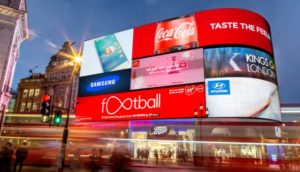 The Company
Our client is a global media brand with a huge portfolio of outdoor media platforms. This world class company is a leading player in their sector within the UK with a product portfolio that is at the forefront of innovation using cutting edge new technology. They provide their clients with a number of compelling media propositions designed to place their customers brand at the front of their audiences mind. They provide a range of clients who include global brands such as Coca Cola, British Airways, Virgin and SMEs with bespoke advertising solutions. These solutions are designed to target their desired customer audience through geo-demographic targeting.
The Role 
They are looking for a Advertising Field Sales Executive based in Scotland. You will sell a portfolio of media solutions to new business customers thereafter developing these into an extensive portfolio of existing accounts covering SMEs, corporate and public sector clients within a specified geography. You will be responsible for sourcing potential customers, developing leads by telemarketing to generate client meetings, then attending and presenting bespoke creative presentations to a range of customers. Your role will involve building and maintaining relationships with key decision makers with larger clients, ensuring that the relationship is nurtured and grown. You will be responsible for the development of these commercial partnerships. This involves managing and nurturing business accounts and ensuring optimisation of revenue streams. You will ensure your activity is implemented efficiently, managing advertising campaigns and guaranteeing the best results for customers and client satisfaction. Working to targets and deadlines will have the support and back up of strong case studies, metrics and marketing information through a powerful media based solution
The Candidate
If you love selling amazing ideas and want to work for an organization that pride themselves on being ahead of the competition then look no further.
You will require experience of field sales from any media sector (i.e radio, outdoor, magazines, online, exhibition, newspapers, etc) coupled with solid documented evidence of success and achievement.
You will be looking to move to a media sector where there is genuine growth, innovation and high earnings.
You will be able to put across a strong sales argument with excellent presentation skills, drive, passion and enthusiasm. You will have a natural ability to come up with creative and innovative ideas that are commercially viable. You will have a strong understanding of the media and marketing departments, coupled with drive, work ethic and motivation to develop new business in a competitive market. You will have strong communication and interpersonal skills and the ability to negotiate at all levels
The Package
In return you will receive the opportunity to join an organisation that values their staff and customers, providing the investment in retaining them. They have a progression plan in place for your development. You will receive full training, back-up, Basic salary to £30K + uncapped bonus (1styear OTE £45K) Top earners earn £80K+ + fully expensed car + laptop + phone + 25 days holidays (+ 9 Public Holidays) and other benefits associated with a world class global company.